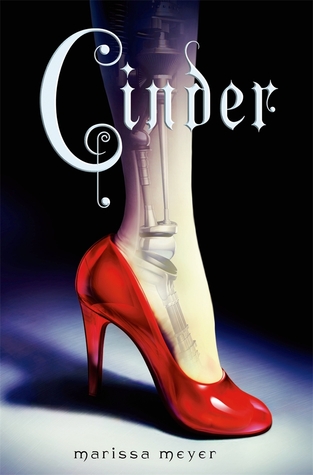 Cinder by Marissa Meyer
Published by: Feiwel and Friends on January 3rd, 2012
Genre: Science Fiction
Pages: 387
Format: Hardcover
Series: The Lunar Chronicles Book 1
★★★★★
Sixteen-year-old Cinder is considered a technological mistake by most of society and a burden by her stepmother. Being cyborg does have its benefits, though: Cinder's brain interface has given her an uncanny ability to fix things (robots, hovers, her own malfunctioning parts), making her the best mechanic in New Beijing. This reputation brings Prince Kai himself to her weekly market booth, needing her to repair a broken android before the annual ball. He jokingly calls it "a matter of national security," but Cinder suspects it's more serious than he's letting on.

Although eager to impress the prince, Cinder's intentions are derailed when her younger stepsister, and only human friend, is infected with the fatal plague that's been devastating Earth for a decade. Blaming Cinder for her daughter's illness, Cinder's stepmother volunteers her body for plague research, an "honor" that no one has survived.

But it doesn't take long for the scientists to discover something unusual about their new guinea pig. Something others would kill for.
SPOILER-FREE REVIEW AHEAD.
That was AMAZING. I have no idea why it took me so long to read this, since it's been on my shelf for almost a year now, and I've been hearing amazing things about it for longer than that. But, wow, am I glad that I finally did.
For those of you who somehow have not read Cinder or are not sure what it's about, it's the first book in the Lunar Chronicles, a sci-fi fairy tale retelling series. Cinder is about a cyborg named Cinder living in New Beijing with her evil stepmother and two stepsisters, Pearl and Peony. Peony, who also happens to be her only human friend, gets infected with the deadly plague that has been killing people for decades, and Cinder's stepmother decides to volunteer her body for plague research, which no one has ever survived. But then, somehow, Cinder does.
The first thing that I want to commend this book for is the world building. It was spectacular. Clearly there was a lot Marissa Meyer had to explain, with the Lunar people, the futuristic society, World War IV, and the different nations, but she did such an amazing job with it. I am the kind of person who often gets confused by different worlds in books, but I was literally never confused while reading this book. She did a perfect job of introducing us to the world without shoving so much of it in our faces that it got boring.
"Even in the future, the story begins with once upon a time."
Next we have the characters. I'm going to talk about Cinder first. After just finishing a book that had a main character I wasn't really a fan of, it was so refreshing to read about Cinder. The original Cinderella character is quite boring and dim to read about, but Cinder was the complete opposite. She was fiercely loyal and stuck up to her stepmother when she needed to (which was basically all the time, because Adri was horrible), but she was also so funny and witty. I loved all of her exchanges with Dr. Erland, the doctor who was researching her body, who is kind of like the fairy godmother figure in this story.
"I don't know. I don't actually remember anything from before the surgery."

His eyebrows rose, his blue eyes sucking in all the light of the room. "The cybernetic opetation?"

"No, the sex change."

The doctor's smile faltered.

"I'm joking."
Although her stepmother and older stepsister were horrible, it was really nice to see such a great relationship between Cinder and her younger stepsister, Peony. Peony was so nice and sweet, and I really enjoyed all of her interactions in the beginning. Iko, the android, was also amazing, and she was really funny to read about. All of her reactions towards Prince Kai were basically me.
Speaking of Prince Kai, I LOVED him. He is so kind, so honorable, and so sweet, and it was so cute to see how smitten him and Cinder clearly were with each other. He and Cinder got along so well, and I just loved reading about the two of them.
"Iko rolled to her side, clasping her metal grippers over her chest. "Prince Kai! Check my fan, I think I'm overheating."
Queen Levana on the other hand, the Lunar queen who wants to marry Prince Kai to secure a political alliance, as well as a deeper goal, was an amazing villain. She was actually frightening, and I'm so excited to read more about her in the next book.
I was able to guess the big plot twist within the first hundred pages, but it wasn't too predictable, and I was so excited for it to be revealed. Even though I knew what was happening, I was never bored, which was such a nice change after the last book I finished. The ending was fantastic, though, and it's made me so eager to pick up the next book in the series, Scarlet.
Cinder was such a fun book from start to finish, and I'm so excited to read the next books in the series (which are waiting on my shelf for me as I type this), because I've heard that they're all much better than Cinder. And I loved this book, so I can't wait to read the rest of them. At this rate, this could end up being one of my favorite series, which is super exciting.
Marissa Meyer is an amazing author, and I honestly can't believe this is her first book, because it was such a fantastic debut. If you haven't read Cinder yet, I highly, highly recommend it, and if you have, let me know what you thought of it in the comments! But no spoilers for the rest of the books, please 🙂 That's it for today's post, and I'll see you all next time!
-Dana