Cress by Marissa Meyer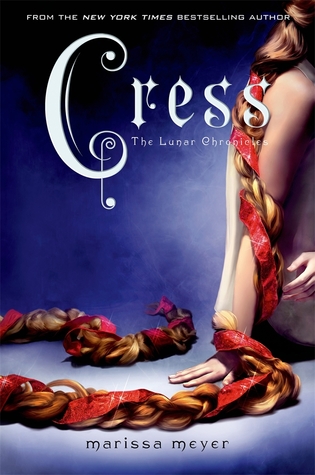 Published by: Feiwel and Friends on February 4th, 2014
Pages: 550
Format: Hardcover
Series: The Lunar Chronicles Book 3
★★★★★
In this third book in the Lunar Chronicles, Cinder and Captain Thorne are fugitives on the run, now with Scarlet and Wolf in tow. Together, they're plotting to overthrow Queen Levana and her army.

Their best hope lies with Cress, a girl imprisoned on a satellite since childhood who's only ever had her netscreens as company. All that screen time has made Cress an excellent hacker. Unfortunately, she's just received orders from Levana to track down Cinder and her handsome accomplice.

When a daring rescue of Cress goes awry, the group is separated. Cress finally has her freedom, but it comes at a higher price. Meanwhile, Queen Levana will let nothing prevent her marriage to Emperor Kai. Cress, Scarlet, and Cinder may not have signed up to save the world, but they may be the only hope the world has.
SPOILER-FREE REVIEW AHEAD (with spoilers from first 2 books)
How do I even begin to sum up the perfection that was Cress? I have so much to say, but I'm still in awe. Cress is my favorite book in the series, and it also happens to be a retelling of Rapunzel–and Tangled is my favorite Disney movie of all time. So you can imagine how excited I was to pick this one up.
I'm pretty sure if you're reading a review for Cress, then you know what the Lunar Chronicles is about, but if you don't, or you can't remember, here's a quick recap. They're basically a science fiction series set in the future with a new main character every book, each of them based on a different fairy tale character. The moon, Luna, is ruled by an evil tyrant named Queen Levana who wants to come down to Earth, marry Emperor Kai of the Eastern Commonwealth, kill him, and then take over the planet. Cinder, our first main character, is the only person who can truly overthrow Levana, since she is the lost Princess Selene, who everyone thought was dead. But she clearly isn't: Queen Levana threw her in a fire and tried to kill her, but she was saved; since her body was too damaged to remain fully human, she was turned into a cyborg and sent to live on Earth, never knowing what her true identity was until recently.
By Cress, the characters are at the point where they're running out of time to dethrone Queen Levana. That, and they're also the most wanted people on the planet. You have a fugitive, an intergalactic criminal, a Lunar-mutated monster who isn't really a monster and his alpha female, and that's basically where Cress comes in.
Like Rapunzel, Cress has been living in an isolated satellite for the past seven years of her life, imprisoned by her mistress Sybil, who works for Queen Levana. She's a shell, a Lunar who has no powers, which is why her parents gave her up and Sybil sent her away to her satellite. But Cress is an amazing hacker, and ever since this whole Cinder mess has started, Sybil has wanted her to gather information on her to give to the Queen. But throughout her research, Cress has learned everything there is to know about Cinder and Captain Thorne, and she's kind of become obsessed with them–specifically, the latter.
Long story short, Cinder and the gang try to rescue Cress from the satellite, but Sybil ends up catching them, and her and Captain Thorne are separated from the rest of the group. They end up landing in the desert, and that is when my favorite ship really begins to blossom. Cress is in love with Thorne, which was really enjoyable to read about, since we never really get unrequited love from a female perspective in YA. They were such an amazing team, and I just got so many feels from the two of them.
"Captain," she murmured. "I think I'm in love with you."

An eyebrow shot up. She counted six beats of his heart before, suddenly, he laughed. "Don't tell me it took you two whole days to realize that. I must be losing my touch."
Cress was a fantastic heroine to read about. She was so different from Cinder and Scarlet, mainly because she's been sheltered and isolated for the majority of her life, so she's really sweet and innocent and naive. She starts off the book as a damsel in distress, but she goes through so much character development that by the end, she realizes she doesn't need Thorne to always be there; she can save herself.
Scarlet wasn't present as much as the other characters in this book, for reasons that I will not disclose due to this being a spoiler-free review. But I will say that she is so strong, and I love her and Wolf. In the beginning of the book, the two of them were kind of in that "what are we" phase, even though it was clear how much Wolf cared about her. Very, very clear.
"It's all right," said Wolf. "You loved her. I would have felt the same if someone wanted to erase Scarlet's identity and give it to Levana's army."

Scarlet stiffened, feeling heat rushing into her cheeks. He certainly wasn't insinuating….

"Aaaaw," squealed Iko. "Did Wolf just say he loves Scarlet? That's so cute!"

Scarlet cringed. "He did not-that wasn't-" She balled her fists against her sides. "Can we get back to these soldiers that are being rounded up, please?"

"Is she blushing? She sounds like she's blushing."

"She's blushing," Thorne confirmed, shuffling the cards. "Actually, Wolf is looking a little flustered."
Cinder was also AMAZING in this novel. Like, this was my favorite appearance of her yet, because her character development is just so fabulous. In this book, Cinder is learning how to use her powers more, and as they get closer and closer to the final battle that is sure to go down in the next book, she begins to question herself. She wonders if she is turning into a villain herself, and how similar she and Queen Levana are after all, and it was just so amazing to read about. I always knew Marissa Meyer was an amazing writer, but Cinder's fabulous character development really blew me out of the water.
Iko also made a return in this book, and I didn't realize how much I had missed her until she came back. She is so hilarious and yet another spunky personality in this book, and her crush on Kai still remains. Also, it was so funny to see Cress get jealous of her and the other android. I'm really looking forward to see her role in the final book, Winter.
Kai and Levana are now engaged, and Kai's obvious hatred for her is more clear than ever. But with the wedding getting closer and closer as the book progresses, we see the stakes being raised even higher, and I honestly had no idea how Marissa Meyer was going to get Kai out of this one, or if he was even going to get out of it. Of course, the plot twist was amazing, as per usual, and made me even more excited for everything that's to come for Kai in the next book.
I have to say, though, my favorite part of this book was the relationship between Cress and Thorne. It is no secret that I am a huge romance fan, and the romance played a much bigger part in this book than the first two. We had protectiveness, jealousy, cute humor, and even them having to share a bed. I don't care how overused that trope is, I will never get tired of it! Cress and Thorne were just so perfect together, and I can't wait to read about them more in the final book.
"Knees suddenly weak, she reached for his forearms to stabilize herself. "You came for me."

He beamed, looking for all the world like a selfless, daring hero.

"Don't sound so surprised." Dropping the cane, he pulled her into a crushing embrace that tore her away from Wolf and lifted her clean off the floor. "It turns out you are worth a lot of money on the black market."
There are so many amazing things about this series, but one of the things that puts it above so many other books is the intricacy of the relationships. Obviously, there's the romance, which I love, but first and foremost, these characters are friends who care about each other. I love the banter between Cinder and Thorne, the complex relationship between Cinder and Wolf, the father figure role Dr. Erland plays in this book, Iko's role, and just all of it. It's all so perfect.
"Maybe there isn't such a thing as fate. Maybe it's just the opportunities we're given, and what we do with them. I'm beginning to think that maybe great, epic romances don't just happen. We have to make them ourselves."
This book also had a lot of setup for the final book in the series, Winter. I'm usually super intimidated by long books–and damn, is Winter long, coming in at 823 pages–but I am so excited for Winter. I'm glad it's long, because it means that even though it's the last book, I still get lots of time to spend with my favorite characters. The challenges with Queen Levana came to a full head in this book, and it's not just a battle in the near future anymore. It's full fledged war.
All in all, Cress was a perfect read, definitely one of my favorites of 2017, as well as one of my favorites of all time. There is literally nothing else I could have asked for, and once again, Marissa Meyer completely exceeded my expectations. I'm ready for her to blow me away one last time in Winter, and expect a full review and discussion for that once I've finished reading it, because I am definitely going to have a lot of thoughts!
I'll see you all next time 🙂 Thanks for reading!
-Dana