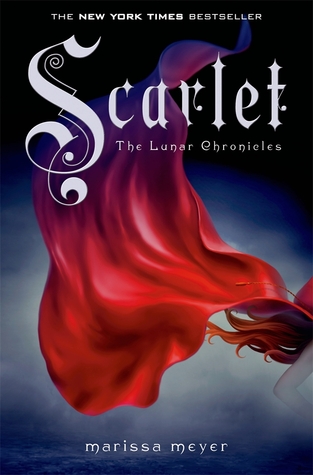 Scarlet by Marissa Meyer
Published by: Feiwel and Friends on February 5th, 2013
Genre: Science Fiction
Pages: 452
Format: Hardcover
Series: The Lunar Chronicles Book 2
★★★★★
Halfway around the world, Scarlet Benoit's grandmother is missing. When Scarlet encounters Wolf, a street fighter who may have information as to her grandmother's whereabouts, she is loath to trust this stranger, but is inexplicably drawn to him, and he to her. As Scarlet and Wolf unravel one mystery, they encounter another when they meet Cinder. Now, all of them must stay one step ahead of the vicious Lunar Queen Levana, who will do anything for the handsome Prince Kai to become her husband, her king, her prisoner.
SPOILER-FREE REVIEW AHEAD (Although there will be spoilers from the first book, Cinder).
THIS BOOK. It was so amazing that I read it in one sitting, and I can't say that about many books, especially ones that are 450 pages long. (I also read Cress in one sitting, but you'll hear more about that in my review for it.) When I read Cinder, I was honestly blown away. I thought the world building and the characters were amazing, and I was never bored. But Scarlet was a million times better than Cinder. We're dropped right into the action, and it doesn't stop until the very last page.
This one is a Little Red Riding hood retelling, but since it's a Marissa Meyer story, it had its own dark twists and turns. Scarlet, our main character, is introduced to us as she's looking for her grandmother, who has been missing for two weeks. Already, she's quite different from Cinder, and we can see that she's a lot more violent and outspoken. When she finds out that the police have given up on the search for her grandmother, she's in a tavern in Rieux, France, and that's where she meets Wolf. Wolf is a street fighter, but we later learn a lot more about his past and who he really is. Most of the story's plot twists lie with Wolf, and I know I said in Cinder that I guessed the plot twist right away, but I was literally blown away by every single plot twist in this book. I didn't guess any of them!
What I really like about these books is how they don't just focus on one character; they are clearly multi-casted stories. Right when I was beginning to wonder about where our good friend Cinder was, a chapter in her perspective appeared, where she is trying to break out of jail. There, in jail, she meets her fellow inmate, Captain Carswell Thorne, and oh my God, I was basically swooning the entire time. At first, I was afraid Marissa Meyer was going to have Cinder and Thorne get together, making a love triangle with Prince Kai, but thankfully, she did not do that. Cinder and Thorne have a….wait for it, platonic friendship! Cue all of the other YA authors gasping in shock. And wow, was it a friendship I enjoyed. I seriously laughed so hard in this book, and a lot of the time it was because of Cinder and Thorne.
"A relieved grin filled up Thorne's face. "We're having another moment, aren't we?"

"If by a moment, you mean me not wanting to strangle you for the first time since we met, then I guess we are."
Actually, I just love these two so much, so I'm going to include a couple more moments between them.
"But I'm a wanted fugitive like Cinder," Thorne continued. "They do realize I'm missing, don't they?"

"Maybe they're grateful," Cinder muttered.
One more!
"A captain always knows where his ship is. It's like a psychic bond."

"If only we had a captain here."
The world building also really comes to a head in this book. Like I said earlier, it was really action packed, so we got to learn a lot more about Queen Levana's Lunar armies, the origins of the plague, and the general atmosphere on Earth. Marissa Meyer also has lots of chapters in Kai's perspectives, but most of them revolve around him plotting how to get rid of Queen Levana, until he makes his big decision at the end. That's not to say I didn't like Kai's chapters, I just really wanted to get back to the ones with the action.
I also really preferred the romance in this book to the one in the first book. Don't get me wrong, I love Cinder and Kai, but I actually liked them better in this book, even though they were never together. It just felt more mature, and a lot more intense, since now the stakes are so much higher. But our main leads in this book, Scarlet and Wolf, had so much chemistry. I was hesitant towards Wolf at first, because I wasn't sure if I could trust him, but it was clear that he would do anything for Scarlet.
"I knew they would kill me when they found out, but…" He struggled for words, releasing a sharp breath. "I think I realized that I would rather die because I betrayed them, than live because I betrayed you."
There was one part at the end where he was like "I know we've only known each other for a week", and I was like, shut up, shut up. I don't like being reminded of the unrealistic aspect of romance in YA. But if this had been a contemporary, I probably would have hated it, since contemporaries are supposed to be realistic, but this is a science fiction book. I'm sure love happens a lot faster when you know that you could die at any minute.
This book also felt like a full fledged sci fi novel, a lot more than Cinder did. They were in a spaceship most of the time! A spaceship!!! It was so cool. I just can't even begin to explain how much this series means to me, even though this is only the second book. It seriously has everything. Strong female characters, fast pacing, amazingly creative world building, hilarious cast of characters, swoonworthy male leads, and romance. What more could you ask for?
All in all, Scarlet was a fantastic read that kept me engaged from start to finish, and it definitely goes down as one of my favorite books of all time. I highly recommend this book, and this series in general, to anyone who hasn't read it yet, because you are seriously missing out. Up until a couple of days ago, I definitely was.
So that's it for my review! I'll see you next time, and stay tuned for my Cress review, which will be coming very soon!
-Dana