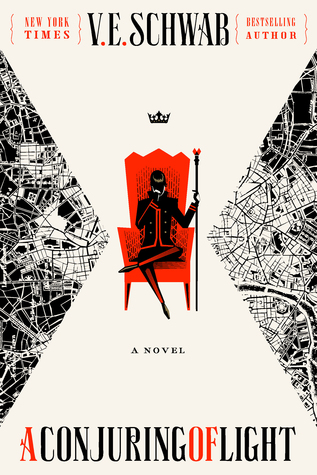 A Conjuring of Light by V.E. Schwab
Published by: Tor Books on February 21st, 2017
Pages: 624
Genre: Fantasy
Format: Hardcover
Series: Shades of Magic Book 3
★★★★★
The precarious equilibrium among four Londons has reached its breaking point. Once brimming with the red vivacity of magic, darkness casts a shadow over the Maresh Empire, leaving a space for another London to rise.

Kell – once assumed to be the last surviving Antari – begins to waver under the pressure of competing loyalties. And in the wake of tragedy, can Arnes survive? Lila Bard, once a commonplace – but never common – thief, has survived and flourished through a series of magical trials. But now she must learn to control the magic, before it bleeds her dry. Meanwhile, the disgraced Captain Alucard Emery of the Night Spire collects his crew, attempting a race against time to acquire the impossible.

And an ancient enemy returns to claim a crown while a fallen hero tries to save a world in decay.
SPOILER-FREE REVIEW AHEAD (with spoilers from first 2 books)
After reading A Conjuring of Light, I finally get what the hype around this series is. It is by no means one of my favorite series, but this book was really, really good. And I think the main reason why I enjoyed it so much is because the action begins from the get-go, taking place directly after the events of that cliffhanger from A Gathering of Shadows.
Within the first 80 pages, Lila has released Kell from the collar, but obviously, things do not end that simply. These first 100 or so pages were super intense, definitely the most exciting beginning I've read from a V.E. Schwab book, because there was just so much going on. We had some epic fights, betrayals, tragic deaths, rescues, good old world traveling. This book is super long, at 624 pages, but I read it in one sitting, even though I should have been studying for exams, because I was just so invested from the beginning.
We also got to learn a lot more about the characters in this final book. Holland, who was a character I hadn't really cared about beforehand but I saw everyone raving about it, actually became one of my favorites in this book, because we just got to learn so much about him. He has gone through so much, and he really does have good intentions, which is what we learn in ACOL. There's also a lot more development with Rhy and Alucard's relationship, which I was really happy about, because one of the things that disappointed me about AGOS was how briefly V.E. Schwab skimmed over it. We found out why Alucard left and how deeply he cares for Rhy, and it was honestly so heartwarming and sweet. I think that I might ship them more than Kell and Lila. I'm not sure. But points to V.E. Schwab for some great LGBT representation!
Also, this is a small thing, but it made me so happy: she briefly mentioned how Rhy, who is part of the royal family, has brown skin, which means that the leading people in charge in London are people of color. It just makes me so happy to see diversity incorporated so seamlessly like that, so kudos to V.E. Schwab yet again!
Kell and Lila's relationship really took a turn in this book. I shipped them in ADSOM a lot, but then in AGOS, I found myself struggling to care about them as much. However, in this book, I was back aboard the ship, because it was just so cute. Lila is such a strong character, and Kell never holds her back, and you can clearly see how much respect he has for her. It was so heartwarming, and made me so happy. As usual, I also loved Kell and Rhy's brotherly relationship. It's so great to see a strong relationship between siblings in YA (even though they're not blood related), and it was made clear time and time again that these two would do anything for each other.
I also noticed a HUGE improvement in V.E. Schwab's writing in this book. I've always thought that she was a great writer, don't get me wrong, but before, I sometimes found it a little….dense? I'm not sure if that's the right word. But her prose was amazing here, and there were so many beautiful passages. Here is my personal favorite quote from the book, and the entire series in general.
"Love and loss," he said, "are like a ship and the sea. They rise together. The more we love, the more we have to lose. But the only way to avoid loss is to avoid love. And what a sad world that would be."
I also really love this passage:
"Caring was a thing with claws. It sank them in, and didn't let go. Caring hurt more than a knife to the leg, more than a few broken ribs, more than anything that bled or broke and healed again. Caring didn't break you clean. It was a bone that didn't set, a cut that wouldn't close."
Majority of the book was spent with Kell, Lila, and the gang trying to destroy the monster king, Osaron, who is trying to take over all of London. However, I was never bored, and I kept on telling myself one more page, one more page, until I closed the book and realized I had finished the whole 624-page beast in one sitting.
All in all, V.E. Schwab's Shades of Magic series is a unique, highly enjoyable ride. The characters are well developed, the world(s) are amazing, and her writing consistently gets better with each book. The first 2 books in the series were solid 4 star reads for me, but I had to give this one 5 stars, because it was just that amazing. I highly recommend this series, and if you have read it, let me know what you thought of it in the comments!
Thanks so much for reading, and I'll see you next time!
-Dana
(Now, I'll leave you with one last quote that I loved; however, it might be a tiny bit spoiler-y, so read at your own risk, I guess.)
"And come back," added Rhy.

Kell paused. "Don't worry," he said. "I will. Once I've seen it."

"Seen what?" asked Rhy.

Kell smiled. "Everything."