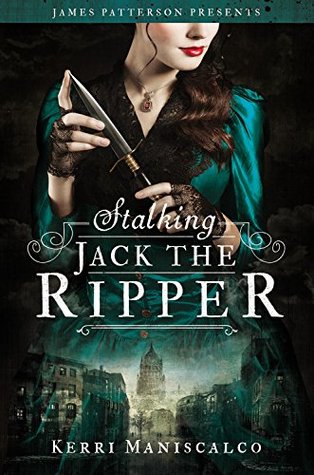 Stalking Jack the Ripper by Kerri Maniscalco
Published by: Jimmy Patterson on September 20th, 2016
Pages: 318
Genre: Mystery
Format: Hardcover
★★★★★
SPOILER-FREE REVIEW AHEAD
Seventeen-year-old Audrey Rose Wadsworth was born a lord's daughter, with a life of wealth and privilege stretched out before her. But between the social teas and silk dress fittings, she leads a forbidden secret life.

Against her stern father's wishes and society's expectations, Audrey often slips away to her uncle's laboratory to study the gruesome practice of forensic medicine. When her work on a string of savagely killed corpses drags Audrey into the investigation of a serial murderer, her search for answers brings her close to her own sheltered world.
I'm a huge fan of murder mysteries. I love watching TV shows, movies, and even documentaries focused on the genre. Unfortunately, there's a significant lack of the genre in YA, which is why I was so excited to finally pick up Stalking Jack the Ripper. And wow, what a ride it was. I ended up reading the book in one sitting–that's how amazing it was.
When it comes to murder mysteries, or mysteries in general, I can usually guess the outcome. I've read so many books and watched so many shows/movies that I've found a lot of them start to feel the same, rendering an air of predictability. However, that wasn't the case with this book. I did end up guessing the killer, but only at the very end, and the big plot twist at the end had me for a complete shock.
Set in 1888, Stalking Jack the Ripper is all about Audrey Rose Wadsworth, a rich girl in England who struggles to break free from society's expectations of her. She doesn't want to sit down for tea and gossip; instead, she's interested in forensic science and solving murders with her uncle. Audrey was a really great character. I loved how feminist she was; she was never putting other women down, but she was always calling out the issues in society. When people around her were talking down about prostitutes, she was always standing up for them and trying to help them understand where those women were coming from, which I am all for.
"Why must I either be docile and decent, or curious and wretched? I was a decent girl, even if I spent my spare time reading about science theories and dissecting the dead."
Speaking of things I loved, I can't write a review for this book without mentioning Thomas Cresswell–aka my newest fictional boyfriend. I absolutely loved Thomas! He's so charming, brilliant, and smart, but he was never a dick. I'm getting tired of the cold, misunderstood, bad boy type, but Thomas was such a great turn on that trope. Even though he does have some of that tragic past going on, he cares about Audrey so much and is so good to her. I loved the romance in this book, because it didn't take over the plot, but it fit in really well and it was just so cute and funny.
When someone called Jack the Ripper–peep at the historical references–starts terrorizing London and killing women left and right, Audrey, Thomas, and her uncle begin investigating the mystery. It was honestly so fun and intriguing following the crime, and it kept me on my toes the whole time. I heard from a couple of other people that they got bored by the focus on forensic medicine, but I was actually really interested in it. It's clear that Kerri Maniscalco did her research, but it never took away from the story for me. Like I said before, the plot twist was incredible, so it was all worth it for me.
I was so excited to find out that there's a sequel that came out in September, because I need more of Audrey, Thomas, and their mysteries. All in all, Stalking Jack the Ripper was an amazing book, definitely one of my favorite reads of 2017. If you haven't picked it up already, I highly recommend it–you won't regret it.
Love,
Dana