Hey, everyone! It's Dana, and today I'm going to be doing a somewhat different post. I realized I've just been doing reviews lately, which is why today I'm going to be talking about 5 books that disappointed me in 2017. Granted, there were more than 5 books that disappointed me this year, but I managed to narrow it down to 5 for this post. So without further ado, let's get started!
When Dimple Met Rishi by Sandhya Menon
★★
It's been almost five months since I read this book, and it still makes me sad that I have to include it in this post. Mainly because WDMR was my most anticipated book of the year, even more than ACOWAR and Always and Forever, Lara Jean. A diverse rom com set at coding camp? Sign me up! Unfortunately, I really didn't end up enjoying the book.
I found WDMR to be really cliche, and it suffered from one of the worst cases of insta-love I've ever read. The protagonist, Dimple, who I was expecting to love, turned out to be a huge jerk, and while Rishi was sweet, he was pretty boring. There was also a lot of "I'm-not-like-other-girls" bullshit, useless bullies who were there for no reason, and barely any coding! The whole book was about some romance that I didn't even care about. And what bothered me the most about it was how Dimple claimed to be some hard-ass who was there just for coding–and then it was hardly ever discussed! Unfortunately, this was a very disappointing read for me.
The Upside of Unrequited by Becky Albertalli
★★
This was another one that I was really surprised I didn't like. First of all, I absolutely loved Becky Albertalli's other book, Simon vs. the Homo Sapiens Agenda, but also, the hype for this book was UNREAL. Everyone was talking about how gamechanging it was and how it was so cute and how Becky Albertalli had struck again. Unfortunately, this one was more of a miss for me.
I have a whole review discussing my feelings towards this book here, but to sum it up: annoying, selfish main character, terrible sister relationship, horrible love triangle, anti-feminism, and just a whole lot of forgettable characters. I'm still upset that I didn't enjoy this one, but I also get upset when I think about it just because of how much I hated it, so….
The Night Circus by Erin Morgenstern
★
Oh, The Night Circus. The closest I have come to DNFing a book in a long time. I'll admit, I didn't really know what this book was about when I picked it up; I had just heard a lot of great things about it and I wanted something like Caraval. Spoiler alert (not really): IT WAS ABOUT NOTHING. I honestly don't even know what to say about this book because it was so boring. It just didn't make sense to me. Pretty, flowery writing can't make up for lack of plot. Sorry.
The Scorpio Races by Maggie Stiefvater
★★
If you know me, you're probably shocked to see a Maggie Stiefvater book on this list, because she's one of my favorite authors. I love The Raven Cycle with all my heart, and I love Maggie's writing, but unfortunately, I really did not like this book. I found it to be very slow-paced and boring, and I also thought there was insta-love, which as I'm sure you can see, I hate. It really did feel like the romance came out of nowhere. The characters were underdeveloped, in my opinion, and the actual Scorpio Races didn't start until the last 20 pages of this 409-paged book. Definitely not for me.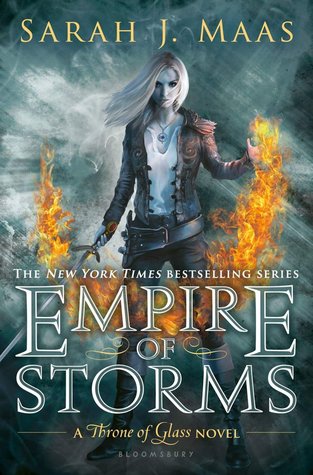 Empire of Storms by Sarah J. Maas
★★
I read this book back in January, and it put me in my very first reading slump of the year. In fact, it still has me in a Sarah J. Maas reading slump–I'm terrified to pick up ACOWAR, even though it was one of my most anticipated reads, and I hardly even look at Tower of Dawn. This book was honestly just so bad. Almost 700 pages of barely anything happening until the end, and Aelin telling everyone how great she was. I am very much ready for this series to be over.
So that's it for my most disappointing books of 2017! What books disappointed you this year? Let me know in the comments, and I'll see you next time!
-Dana