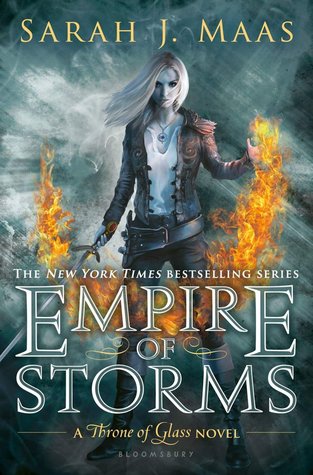 Empire of Storms by Sarah J. Maas
Published by: Bloomsbury on September 6th, 2016
Pages: 693
Genre: Fantasy
Format: Hardcover
Series: Throne of Glass Book 5
★★
SPOILER-FREE REVIEW AHEAD
The long path to the throne has only just begun for Aelin Galathynius as war looms on the horizon. Loyalties have been broken and bought, friends have been lost and gained, and those who possess magic find themselves at odds with those who don't.

With her heart sworn to the warrior-prince by her side, and her fealty pledged to the people she is determined to save, Aelin will delve into the depths of her power to protect those she loves. But as monsters emerge from the horrors of the past, and dark forces become poised to claim her world, the only chance for salvation will lie in a desperate quest that may mark the end of everything Aelin holds dear.
This honestly would have been 1 star if it hadn't been that for ending.
I've been finding a common pattern with this series, ever since Heir of Fire (book 3). They'll take me ages to read, because the beginning will always be so long and boring, but then the endings always captivate me and make me want to give it five stars. I couldn't with this one, though, not when I pretty much hated all of the characters except for Dorian and Manon. And I wasn't as big of a fan of the two of them together as I was in Queen of Shadows.
Any scene with Aelin and Rowan had me gagging. I honestly hate them together, and I pretty much hate Aelin in general. There's a line between being endearingly cocky and full out arrogant, and she crossed it a long time ago.
I used to consider this series one of my favorites. I liked Throne of Glass a lot, loved Crown of Midnight, was meh about Heir of Fire, and then really enjoyed Queen of Shadows, but I really, really did not like this one. I'm still going to read the next book, though, because I want to see how it ends, but I am very glad that it's the last book in the series.
This is nothing against Sarah J. Maas' writing. I just really don't like these characters anymore. (And I was especially bothered by the fact that Chaol, one of my long time favorites, was absent for the entire book??) However, I am an enormous fan of her A Court of Thorns and Roses series, but I really hope that one doesn't get ruined by her decision to extend it to a six book series.
-Dana