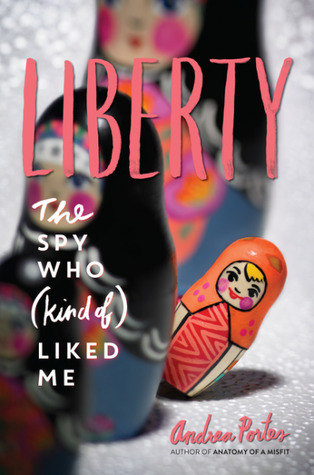 liberty: the spy who (kind of) liked me by andrea portes
published by: harperteen on june 6, 2017
pages: 388
genre: mystery
★★★
SPOILER-FREE REVIEW AHEAD
sean raynes, the young man who exposed america's unconstitutional spying techniques, is a hero, even if half the dum-dums in the country think he's a traitor. and her journalist parents, who were captured by terrorists while telling stories of the endangered and oppressed—they were heroes, too. or are—no one has ever told paige if they're still alive, or dead. not heroes? anyone in the government who abandoned her parents, letting them rot somewhere halfway across the world. and certainly not paige herself, who, despite her fluency in five languages and mastery of several obscure martial arts (thanks, mom!), could do nothing to save them.

couldn't, that is, until she's approached by madden carter, an undercover operative who gives her a mission: fly to russia, find raynes, and discover what other government secrets he's stockpiled. in exchange, he'll reopen the case on her missing parents. she's given a code name and a cover as a foreign exchange student. who is a hero? not paige nolan, but maybe, just maybe, liberty is.
when i was younger, i was obsessed with spy novels. i loved everything about them, from the mystery, to the tension, to the romance. today, i still love them, but it's a lot harder to come across them. in fact, i think this might be the first ya spy book i've ever read (i count ally carter's books as middle grade). and while i was definitely expecting more from it, i did enjoy it.
this book is all about a girl named paige whose journalist parents disappeared on a trip to syria. when a new government group approaches her about them, she is willing to do anythign to help the group, so long as she receives information about her parents. paige agrees to go as undercover as a spy in russia to gather information on america's biggest traitor, sean raynes. from then on, things get a little muddled.
it's not that i didn't enjoy paige's time in russia. i did. it's just that i feel like once she got there, she kind of forgot why she was there, which led to some plot holes. first of all, she was supposed to use the code name liberty. it's literally the title of the book, and madden, her supervisor, refers to her as it multiple times. however, every single person in russia knows paige's real name…like, doesn't that defeat the purpose of her being a spy?
i also found there to be some serious insta-love, which i hate. in the beginning of the book, paige wouldn't stop talking about how she has no feelings and isn't one for relationships, but then she falls in love literally the second she sees the guy. it's really unrealistic, which obviously you expect coming from a spy book, but still. unrealistic even for the genre. i also thought the ending was super rushed. like, everything happened too quickly, and i didn't like how there were so many loose ends, especially since there doesn't seem to be a sequel.
i did really love paige, though. she made me laugh harder than i ever have in a book. she's so funny, and her rapport with madden literally had me cackling. they are so amusing together, and i wish there was a sequel so i could see more of the two of them. their dialogue is so quick and funny, there's literally a joke every minute. i wish there were more books as funny as this out there.
the flight attendant passes and smiles at madden for just a second too long.

"gag. she's flirting with you. are you in first?"

"of course."

"capitalist. so, to what do i owe the honor of this visit to steerage?"

"i'd like you to take a look at this."

"is it your penis?"

he slouches, sighs. "why are you so annoying?"
all in all, this book was an enjoyable read. it wasn't lifechanging or anything, and it wasn't trying to be. even though there were a lot of plot holes and i found the ending to be rushed, it accomplished what it set out to do: it made me laugh. books don't always have to be super deep and meaningful. sometimes they just have to be fun, which this one definitely was.
-dana