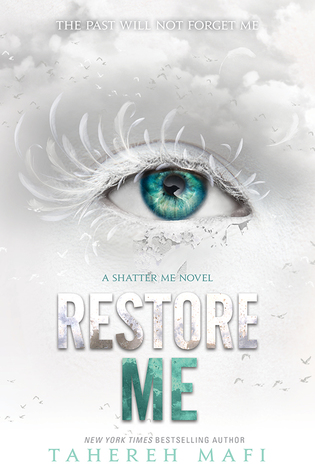 restore me by tahereh mafi
published by: harpercollins on march 6, 2018
pages: 435
genre: dystopian
series: shatter me book 4
★★★★★
SPOILER-FREE REVIEW AHEAD
juliette ferrars thought she'd won. she took over sector 45, was named the new supreme commander, and now has warner by her side. but she's still the girl with the ability to kill with a single touch—and now she's got the whole world in the palm of her hand. when tragedy hits, who will she become? will she be able to control the power she wields and use it for good?
i wasn't sure what to expect when i heard that tahereh mafi was extending the shatter me series. on one hand, i was over the moon with excitement. shatter me is one of my favorite series of all time, and i love the characters more than anything. on the other hand–it's one of my favorite series of all time. what if the decision to extend the series was a mistake? at first, i didn't really think there was any need to continue the story. but after reading restore me, i am 100% confident in tahereh mafi's decision. this was definitely the right choice.
restore me picks up sixteen days after the events of ignite me, so i would definitely recommend revisiting it. we're immediately reintroduced to all of our favorite characters, and i was up past midnight smiling like an idiot reading their interactions. i honestly never thought i would be able to read another shatter me book again. i thought i would just have to reread the books over and over again, but now i have 2 new books left to look forward to. 2 more books of juliette, warner, and kenji. it makes me smile just thinking about it.
"who says you can't be cute and kick ass at the same time?" kenji winks at me. "i do it every day." 
tahereh mafi's strengths definitely lie in her prose and her characters. i remember thinking that while i loved ignite me, it did feel a little rushed. what was going to happen to the reestablishment? how was juliette, a 17-year-old, going to be the supreme commander of north america? would her and warner make it? what about her parents? restore me answers all of these questions, and asks new ones in the process. i can't even begin to explain how exciting this book is. so much happens, and so many new things are revealed. i pretty much had my hand over my mouth in shock for the last 200 pages of the book, because so much was happening.
"how did i think people ruled the world? did i really imagine it would be so simple? that i might control the fabric of society from the comfort of my boyfriend's bedroom?"
juliette, warner, and kenji are just as lovable as i remember them, if not more. warner can speak ARABIC, which literally killed me, because as an arab, we literally never see positive representation of ourselves in the media, whether that be through books, tv shows, or movies. speaking of representation, this book does such a good job of providing it. two of the new characters introduced are arab muslims, and one of them wears hijab. hijab, guys!!! i cannot even begin to tell you how thrilling it is to read about someone who reminds me of myself. i don't wear hijab, but my mom and my sister do, and it's so amazing to see it be represented in fiction. the only other time i have ever read about a hijabi character in a book is does my head look big in this. that's really, really monumental, and it makes it even better when you know that this is a #ownvoices narrative, since tahereh mafi wears the hijab herself. i'm sure other people of color/marginalized groups know how incredible it feels to see someone who looks just like you validated in mainstream media. for those who might not understand the significance, let me take a quick minute to try and explain.
i'm a dark-skinned arab muslim female living in a society where all of those things are used against me. i am so used to only reading about white people, and i have been fed the message my whole life that white is beautiful and arabs just….aren't. arabs, and muslims in general, are scary and terrorists, and therefore have no place in mainstream media unless they're being villanized. to see a muslim character wearing hijab and only having positive things about her said–that she's beautiful, that people find her attractive, that she's more than a piece of cloth on her head….that means so, so much to me. this is why representation is important. it makes people like me feel like they are valid of the same love and affection that white people receive in the media.
this book also felt like a love letter to so many of my favorite things, especially stranger things. yes, my favorite book series was reminding me of one of my favorite tv shows. my two favorite things together! the science fiction, the abilities, the humor….the other things that i will not mention because this is a spoiler-free review. this book also reminded me a lot of lorde's pure heroine album, specifically the song buzzcut season, which is all about teenagers and war. i feel like tahereh was probably listening to buzzcut season on repeat when writing this. that would really be a combination of all my favorite things.
also i just have to emphasize how much juliette has grown. in the first book of the series, she was a meek girl who was afraid of her own powers, and we can see that by the numerous excerpts from her asylum journal. but now, she is so strong and confident, and everyone around her can see that. she really does have some of the best character development i've ever read. i just….i love juliette ferrars so much!!!
"hi," lena says loudly. "it's nice to finally meet warner's girlfriend."

i'm holding my breath as juliette looks her up and down.

she takes her time, tilting her head as she devours lena with her eyes and i can see lena's offered hand beginning to tire, her open fingers starting to shake.

juliette seems unimpressed.

"you can call me the supreme commander of north america," she says.

and then she walks away.
i can't even begin to explain how epic the ending was. i literally had to reread certain parts over and over again, because i was in so much shock. i didn't even think it was possible for this series to get better, but somehow, tahereh mafi has exceeded my expectations. i have no idea how i am going to wait a whole year for the next book, i really don't. if you haven't restore me, you have to get your hands on it right now. i loved everything about it, and i really hope everyone else does too.
-dana