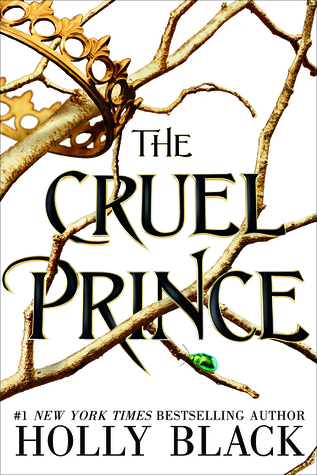 the cruel prince by holly black
published by: little brown and company on january 2, 2018
pages: 369
genre: fantasy
series: the folk of the air book 1
★★★★★
SPOILER-FREE REVIEW AHEAD
you know how sometimes you finish a book, and the more you think about it, the more you realize how epic it truly was? this was one of those books.
this is my first holly black read, but it definitely won't be my last. i'll admit, i was a bit apprehensive going into this one. mainly because i've seen so much praise for it circulating online, and i'm generally wary when it comes to hyped books, since i've been disappointed in the past. this book was not a disappointment; it was far from it. in fact, this has to be the strongest series opener i've read in a long time.
the cruel prince is a ya fantasy novel about a mortal girl named jude, who is stolen away from her life and taken to live with her mother's former husband, who is the general of the faerie court. as she and her sisters grow up in the faerie world, tormented by their peers for their mortal hearts, jude secretly wants to be just like the faeries who resent her. i'm not a huge fan of faerie books, ever since sarah j. maas screwed me over with her throne of glass series, but this book really restored my faith in the genre again. because wow, guys. it was so, so good.
it reminded me a lot of game of thrones in many ways, even though i've only seen the first season and never read the books. but this book has all the political intrigue and deception that is so often misrepresented in ya novels. ya authors always try really hard to build a scandalous political world, which i understand is very difficult to do, but holly black makes it look so easy. i'm generally the kind of person who gets confused in books very easily, but i wasn't confused once in this book. everything was explained so well, and it all felt authentic.
speaking of authentic, our main character, jude, is just that. she is one of the best written antiheroes i have ever read, because you so clearly understand her struggle throughout the book. she has been stepped on her entire life, never been taken seriously, and once she's handed a sliver of power, she wants more. it's so interesting to see, because these types of characters are rarely the protagonists in ya novels. jude was such a well written character, and she genuinely has some of the best character development i've ever read.
"if i cannot be better than them, i will become so much worse."
and speaking of character development…..can we just talk about carden for a second? not only is he a new addition to my book boyfriend list, but he is also the love of my freaking life. i don't know what it is about sad, misunderstood faeries that gets me so whipped, guys. at first, i really hated carden and i had no idea how holly black was going to redeem him, because i'm usually pretty set with my opinions. but wow his character development was once again so authentic and his relationship with jude is so complicated yet so real. i love them and i am so nervous/excited to see what is going to happen in the next book.
"most of all, i hate you because i think of you. often. it's disgusting, and i can't stop."
i saw some people on goodreads rating this book a little lower because they said the beginning was too slow for their liking, but i was never bored. i read this book in one sitting, and it got me out of the reading slump i've been throughout 2018 so far. this is what i missed most about reading, specifically fantasy. there's a kind of rush that you can't get from tv or movies, not anywhere else. holly black's ability to weave you into the story from page one and keep you hooked until the very end is applaudable.
if you haven't picked the cruel prince up yet, i highly recommend you do so. if you love fantasy, romance, drama, backstabbing, and politics, this is the perfect book for you. if you don't like any of those things, i still think you should try it, because it is that good. now the question is–how the hell am i supposed to wait until 2019 for the next book?
until next time,
dana x