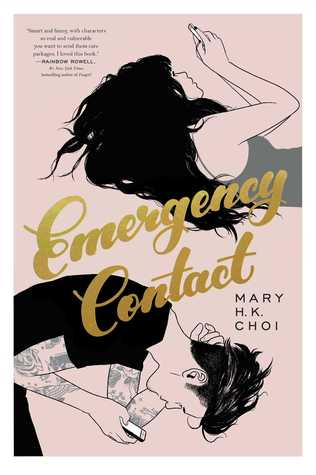 Emergency Contact by Mary H.K. Choi
Published by: Simon & Schuster on March 27, 2018
Pages: 391
Genre: Contemporary
★★★★.5
SPOILER-FREE REVIEW AHEAD
Before I start, can we just take a moment to appreciate how beautiful that cover is? Wow. Not gonna lie, I knew I had to have this book before I even read the synopsis, solely based on the cover. Then I read the synopsis and I knew I really had to have this book.
Emergency Contact was one of my most anticipated reads of 2018, and I'm happy to announce that it did not disappoint. It was a really fast-paced read and I got through it quickly. I loved the slow burn romance, especially since the last book I finished was the opposite of that. I also loved the college setting, which is something we don't see very often in YA. The characters were great too, although Penny could be a little meh for me at times. Mainly because I just felt like she was very unfair to her mom on most occasions, but other than that, I liked her.
The only reason it isn't a complete 5 stars is because it's missing that little spark that tells me, this is one of my favorites. I realized I give out 5 stars too easily; that doesn't mean this is a bad book, per se. In fact, I really enjoyed it. But not 5 stars. It actually kind of reminded me of Fangirl, one of my favorite books of all time, mainly because of the college setting and the main character. In fact, Rainbow Rowell's praise is stacked right on the front of that (beautiful) cover.
All in all, a really modern, funny contemporary that I would highly recommend 🙂
Until next time,
Dana