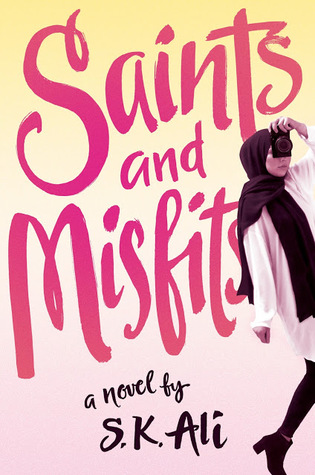 Saints and Misfits by S.K. Ali
Published by: Simon & Schuster on June 13, 2017
Pages: 325
Genre: Contemporary
★★★★★
SPOILER-FREE REVIEW AHEAD
The reason why I picked up this book was because of the girl on the cover. I hadn't seen a hijabi on a book cover since Does My Head Look Big In This?, which I read back in elementary school. As a Muslim teenager, I rarely feel represented when reading, so this was a rare case for me. I am so happy to say that I loved this book, and it was not a disappointment at all.
Saints and Misfits is about a high school sophomore named Jana. She's a devout Muslim who's heavily involved in her community, but she also has her life outside the mosque, especially since she developed a crush on a white guy named Jeremy. Jana also has a secret that's been haunting her for weeks. It's important to keep in mind that there are many different types of Muslims. Not all Muslims wear hijab, not all Muslims are religious, and that's fine. I didn't relate to every single thing Jana talked about in this book, because my family is not as religious as her and I don't wear hijab. However, I still come from a practicing Muslim family where the majority of women wear hijab, so I could relate on many levels.
I really liked Jana's character and her relationship with her brother and her friends. Her character development was amazing, and I loved watching her grow from a scared victim into someone who was brave and not afraid to stand up for herself. This book really showcases the power of #OwnVoices, because it raises questions that so many Muslim girls question. It was so interesting to read about Jana's struggle with her hijab, because that's not something that's talked about very often. As well as with her oppressor, Jana didn't want to talk about it not only because it made her extremely uncomfortable, but because she didn't want others to think badly of her community. That was something that really spoke to me. I feel like with minorities/marginalized communities, people always use a bad example to represent the whole community. S.K. Ali did a really good job of portraying this in the novel, and I really appreciated that.
All in all, I really enjoyed this book. It was so special as a Muslim girl to see someone who resembled me in a book, because that's something I've never really gotten. I really hope there are more YA novels about Muslim girls coming out soon, and in the future, I hope to write one myself. I would definitely recommend this book to everyone, not just if you're Muslim, because it is really worth the read.
Until next time,
-Dana